Singleton Roosterettes aim for 4-0 start against Lake Macquarie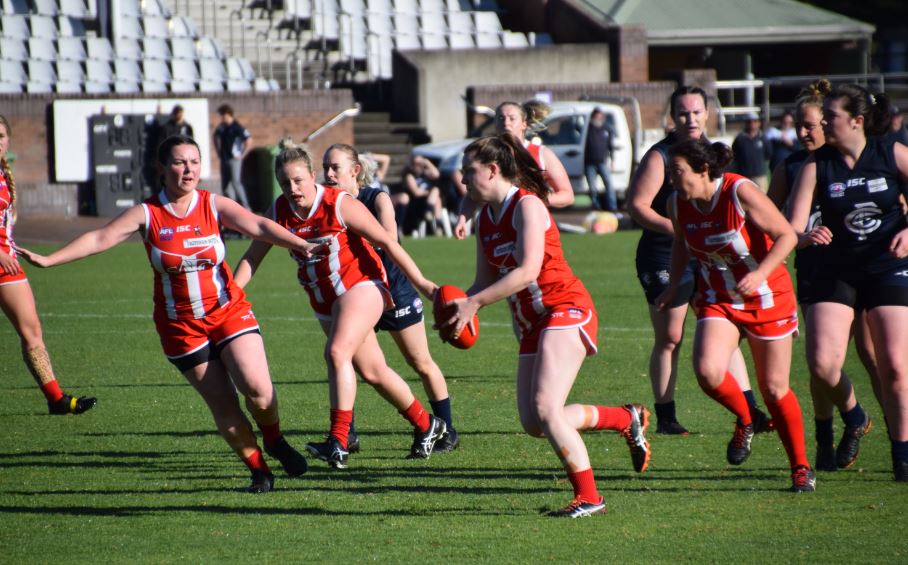 BY ALEX TIGANI
Singleton Roosterettes playing coach Nadene McBride admits she was just as surprised as her opponents with her side's commanding 32-point win over Newcastle City on Saturday.
"Yesterday's results were not what our team were expecting," McBride said on Sunday.
"We had been watching all results and had surmised that Newcastle were the team to beat.
"Assistant Coach Tom & I both were over the moon with the team spirit; we played an amazing defensive game."
The Roosterettes were missing captain Tori Cowburn, ball winner Ray Chapman, key forwards Bree Howard, Tina Kerr, Jen Bos as well as midfielders Ciara Goland, Taylah Cronin, Celine Mitchell, Olivia Hall, Tai Yu and Aimee Holland.
By Friday night they only had 15 available players.
Yet they still managed to keep the homeside goalless.
"The tackles were how we won the footy," McBride explained.
"Newcastle did not know how to get away from our hard hitting girls.
"Hannah Cox our resident full back talked her sister Charlotte into playing.
"Charlotte came off night shift to help us out and took to the game like a duck to water."
The Roosterettes will now play host to Lake Macquarie in this Saturday's second vs. third clash at Singleton's Rose Point Park.
"We had no bench and that makes the win even more special," she concluded.
FINAL SCORES
Newcastle City 0.2 (2)
Singleton Roosters 4.10 (34)
BEST
Newcastle City – M. Simonsz, K. DiNardo, T. McNiff, E. Carroll, M. Edwards, M. Cameron.
Singleton Roosters – K. Bates, P. Bates, N. Pietrzak, S. Breeze, C. Alexander, K. McBride.
GOALS
Newcastle City –
Singleton Roosters – K. Bates 3, P. Bates.