Whittingham Road Work Ramps Up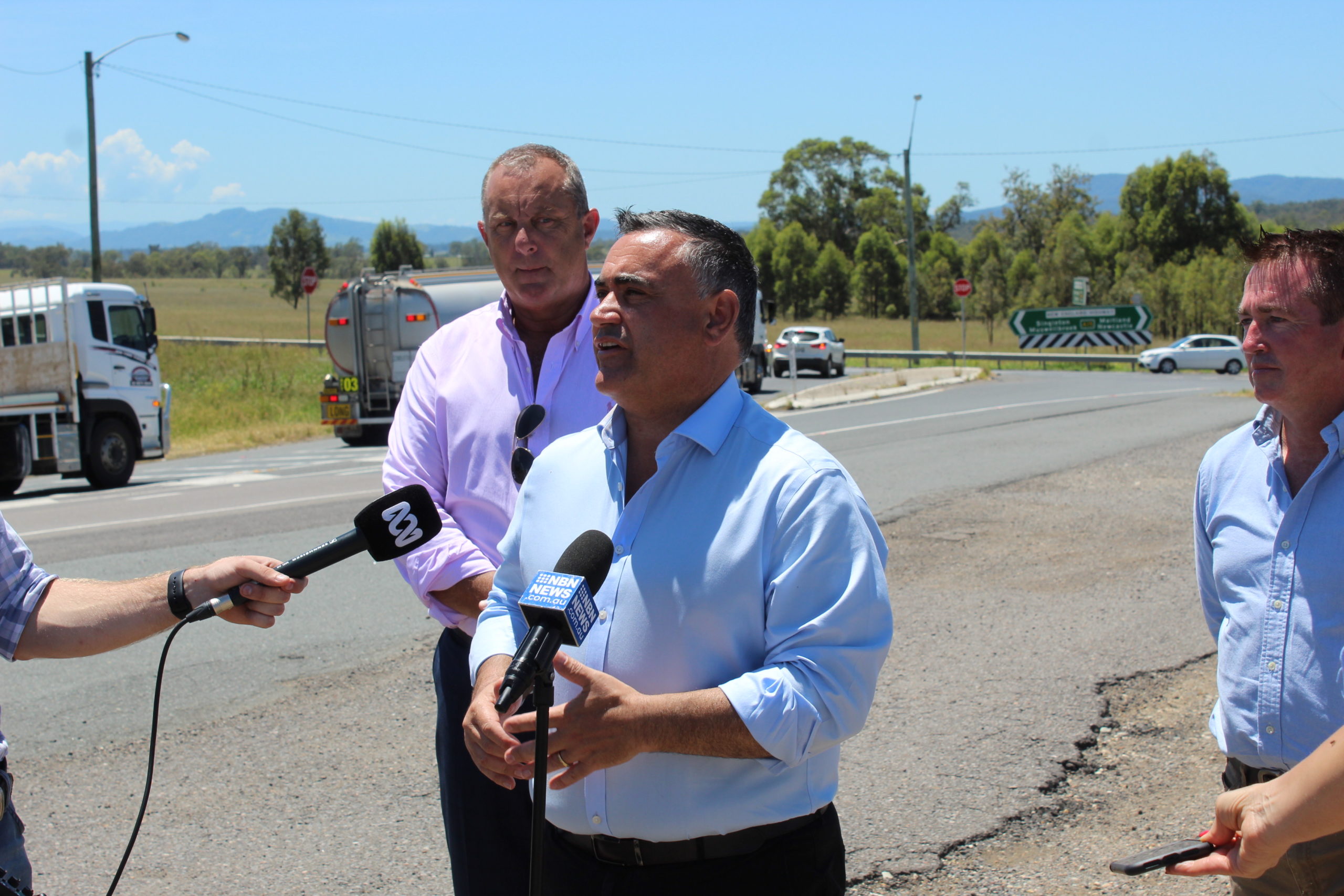 BY DI SNEDDON
If there was any doubt there were major traffic issues on the New England Highway and Golden Highway near Singleton, it was put to rest with a press conference last week interrupted several times by noise from passing traffic.
And it wasn't even peak hour.
Deputy Premier John Barilaro, Regional Transport and Roads Minister Paul Toole and member for Upper Hunter Michael Johnsen met at Whittingham at midday last Friday to discuss the project, announcing that tenders for the $97 million have now closed.
Mr Johnsen said the successful tender would be announced by June with work expected to start late this year.
Weather pending, it will take about three years to complete.
Already utility and preparation work have been carried out, with final testing on the relocated gas mains underway.
The work includes two travel lanes in each direction from Belford to the Golden Highway and a flyover for vehicles turning right from the Golden Highway towards Newcastle.
Speaking on the project, Mr Toole said more than 22,000 vehicles used the intersection every day including 2500 trucks.
"These road corridors are used extensively by heavy vehicles serving coal mining, grain production and other industries in the Hunter Valley and the Central West to access the port of Newcastle, so the upgrade will be a massive productivity boost for the regional economy," Mr Toole said.
Mr Johnsen added that the project had already provided work for about six local suppliers and contractors which was vital in the current, challenging economic conditions.
Mr Johnsen acknowledged the lives that had been lost at the intersection and said the work would significantly increase the safety of the road network.
"There have been way too many accidents and indeed, way too many deaths across this precinct and this project will save a lot of lives and reduce the frustration that this intersection creates every day," Mr Johnsen said.
Mr Barilaro said the intersection was a key arterial route for the Hunter Region and was a critical connection between the urban and employment centres of Maitland and Singleton which are planned future growth areas for the Hunter.